Hi there!
Today I'm here to tell you that I have been selected to be part of the DT at
That Craft Place
. I am so excited about it! Can you imagine? My blog is only two months old, and I am already on a DT! I'm looking forward to start working with this great team and with the awesome variety of materials that they have in their shop. If you still don't know it, I recommend you to pay them a visit!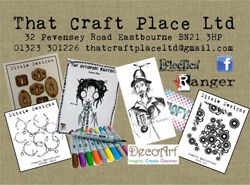 You can also find some fun challenges in their
blog
, the last one is about using flowers and there is still a week left to present your works.
Here, I'm going to show you my DT batch, that is going to be now displayed in my side bar.
And you know what? This shop has their own brand of digital stamps,
Ditzie Digi Design
, and therefore yesterday I decided to make this little tag to be able to showcase it today together with the good news.
Hope you like it :)


In this tag: Digital stamp, stitched flowers, from
Ditzie Digi Design
, coloured with Copic markers: R00, R22, R24 and R27. Distress inks, gesso, lace, button and blings.
I would like this tag to play in the following challeges:
-
Come and Get it Challenges
: Easter/Spring
-
Scrapping 4 fun #13
: Lace and buttons
-
Tuesday Throwdown #187
: Tic-Tac-Toe (Button, flower, CAS)
-
Creative Fingers #28
: Anything goes
-
Crafting by Design
: Anything goes in March
-
Crafty Girls Challenges #14
: Anything goes
-
Just Inspirational Challenges
: March Anything goes