Hi there!
Thank you to everybody who joined our Blog Hop last fortnight. I have asked my husband to selected a number and he chose 8, so the lucky of my card is Debbie. Therefore, please Debbie if you could send me an email with your adress to aurora@themillersdaughter.es I will send it to you
And now it is time for another challenge at
That Craft Place Challenge Blog
, and the theme for this fortnight is "Decorate a Bag".
Hope you like mine :)
In this work: Red satin ribbon, green thread and seed beads from
That Craft Place
and an old pair of jeans.
If you like this, here there is some links that you may want to know: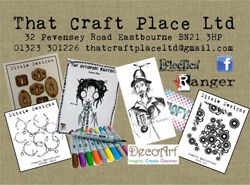 This work goes to the following challenges: